Hey there fellow book loving friends, 
                                                                       First up, let's talk new releases, shall we?
There have been so, so, many new releases that have come out in the past two days, let alone, the past two weeks, so instead of listing them all, I thought I'd just do a round up of my favorites and the books that are currently sitting at the top of my tbr pile:
Every now and again, you'll come across an author who writes so beautifully that when they release a new book, you drop whatever book that you're currently in the process of reading and start reading their newest release so at the very, very top of my tbr list (just waiting on it to hit my Kindle, damn time zones and waiting!) is:
 Return to New York Times bestselling author Nalini Singh's darkly passionate Guild Hunter world, where human-turned-angel Elena Deveraux, consort to Archangel Raphael, is thrust center stage into an eons-old prophecy….
Midnight and dawn, Elena's wings are unique among angelkind…and now they're failing. The first mortal to be turned into an immortal in angelic memory, she's regressing. Becoming more and more human. Easier to hurt. Easier to kill.
Elena and Raphael must unearth the reason for the regression before it's too late and Elena falls out of the sky. Yet even as they fight a furious battle for Elena's very survival, violent forces are gathering in New York and across the world.
In China, the Archangel Favashi is showing the first signs of madness. In New York, a mysterious sinkhole filled with lava swallows a man whole. In Africa, torrential monsoon rains flood rolling deserts. And in Elena's mind whispers a haunting voice that isn't her own.
This time, survival may not be possible…not even for the consort of an archangel.
It feels like I've been waiting and waiting ages for this book to come out. I'm so excited to read it. Although it did release in mass market paperback format yesterday on October 30, it doesn't release in ebook format until November 1st for us, Aussies. Fortunately, Amazon are usually pretty good at sending out pre-orders on the Kindle and fingers crossed it will start hitting Kindles just past midnight tonight.
The next books on my tbr list, in the order I plan to read them in, is:
 Released Oct 30, just in time for Halloween!
For some, death is a way of life . . .
Considering her status as the world's most powerful medium, Corvossier 'Casper' von Klitzing and her twin brother Barastin had a pretty normal life. Her unrivalled ability to speak with and control the dead had made her a living, made her notorious … and made her a target.
After a horrific incident in her home city of Berlin, Casper's life is forever changed. The sole survivor, she is consumed with vengeance towards an enemy she doesn't understand. The only other person ever to escape the legendary Oct was a witch – so Casper is soon on her trail.
But this witch does not want to be found.
Diving headfirst into the supernaturally secretive world of spells, charms and covens, it's not long before Casper is crossing much more than just the line between the living and the dead . . .
This time reinventing witches and ghosts with a much-needed feminist twist, The Witch Who Courted Death is a brand new title from the bestselling author of Who's Afraid?
I had initially planned that The Witch Who Courted Death was going to be my next book up for review on the blog, however, when I discovered that this book is a spin-off from Maria Lewis's books: Who's Afraid? and Who's Afraid Too? , I decided that I would buy and read the previous two books before diving into The Witch Who Courted Death, and I have to say, I'm not even a full quarter of the way through Who's Afraid? and already I am loving the way that this woman writes and I'm very much looking forward to reading Who's Afraid Too? and The Witch Who Courted Death.
After reading this latest release, next up will be: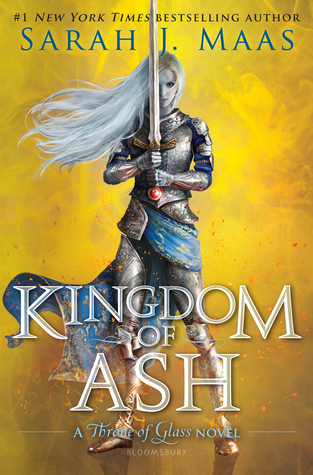 Years in the making, Sarah J. Maas's #1 New York Times bestselling Throne of Glass series draws to an epic, unforgettable conclusion. Aelin Galathynius's journey from slave to king's assassin to the queen of a once-great kingdom reaches its heart-rending finale as war erupts across her world. . .
Aelin has risked everything to save her people―but at a tremendous cost. Locked within an iron coffin by the Queen of the Fae, Aelin must draw upon her fiery will as she endures months of torture. Aware that yielding to Maeve will doom those she loves keeps her from breaking, though her resolve begins to unravel with each passing day…
With Aelin captured, Aedion and Lysandra remain the last line of defense to protect Terrasen from utter destruction. Yet they soon realize that the many allies they've gathered to battle Erawan's hordes might not be enough to save them. Scattered across the continent and racing against time, Chaol, Manon, and Dorian are forced to forge their own paths to meet their fates. Hanging in the balance is any hope of salvation―and a better world.
And across the sea, his companions unwavering beside him, Rowan hunts to find his captured wife and queen―before she is lost to him forever.
As the threads of fate weave together at last, all must fight, if they are to have a chance at a future. Some bonds will grow even deeper, while others will be severed forever in the explosive final chapter of the Throne of Glass series.
So, right now, I know what you might be thinking, or at least be able to hazard a guess: If you want to read this book and it's already out and you already have a copy of it, why haven't you read it already?
Well, the answer is this: 
I don't know whether this is my own personal little quirk or whether there are other readers out there who do this. However, sometimes, when I come across a book that's a first in a series (and not a standalone series – where each character has their own book in the series) or learn that a favorite author is bringing out a series that feature the same hero/heroine throughout the series, one of the first things that I'll do after reading the book (if I really enjoyed it) is check the release date of the next book and check the author's site to see how many books are likely to be in the series and then, after doing this, I purchase every book in the series when they're released, BUT, I don't read them until every book in the series is out. That's right, ladies and gents, I wait until every book in the series is out before I read all the books in the series. So, the only book in the Throne of Glass series that I've read is the first book in the series…and just in case, that isn't blowing your mind, I also have every book in the A Court of Thorns and Roses series and I haven't read any of them yet because I wanted to read the Throne of Glass series first. I know, I know, I'm insane, right?
If that's not enough for you, that's not even the first series that I've done this with. I think the first series that I did this with was Richelle Mead's Bloodlines (which I only read a few months ago, but which I absolutely adored and thought was better than the Vampire Academy series.)
I've done this with a few other book series as well, none that I'm going to mention at the risk that I might be lynched. 
I think, at the heart of the reason as to why I do this, aside from being an impatient reader, is that when I start a book, I want to read and experience the whole journey, and in a series, even if the books end with a happy for now instead of a cliffhanger, knowing that there's more books in the series, it makes me feel as though the story isn't quite complete until I know that there's no more books in that series.
I don't know if other readers will understand my process or think I'm insane, but that's why I haven't read the Throne of Glass series yet. Truth be told, I think that also having to wait over 20 odd years to read some books in a series, had a little something to do with it as well. Oh, and I'm still waiting on one of the books to be released. I started reading the Nightworld series by L.J.Smith (the author whose books The Vampire Diaries were based on) back when I was in high school and I'm still waiting on the last book in the series to come out. (The newest release date, because a number of release dates have been mentioned previously, is December 12, 2018. I'll just have to wait and see whether the book actually releases this time!)
In any case, after I finish reading the Throne of Glass and A Court of Thorns and Roses series, I'm going to read these:
I have loved Channing Monroe all my life.
In first grade, he asked for my Trapper Keeper.
I hit him in the head with it.
Third grade, we were best friends. We kissed in seventh grade.
Eighth grade, he turned into a bad boy and the rest was a tumultuous storm.
Growing up, the problem was never love for us.
Bad times. Good times. There were times when I felt our love in every inch of my body, vibrating, making me feel like it could bring me back to life.
The problem was us.
The problem is that we're living in two different worlds now.
Fallen Crest and its millionaires for me. Roussou and their criminals for him. I was thriving in mine and he was running his.
But…
But there were nights I felt we couldn't be further apart than we were, and there were nights I felt we shared the same heartbeat.
When was it time?
When was it time to either sacrifice, make a change, or walk away from the boy I grew up with?
So those are the books that are at the top of my tbr list, although, the order I read them in may vary a little.
Currently, I'm almost a quarter of the way through Who's Afraid? by Maria Lewis, but I'm taking a couple days break away from it, just to read Archangel's Prophecy, because I can't not immediately read a new Nalini Singh book when it comes out.
As to what I've recently read: Just last week I finished reading Shadow and Ice (GODS OF WAR book 1) by Gena Showalter and here's my review (I gave it 5 stars):
An interdimensional Hunger Games for adults. 
Gena Showalter's epic new paranormal romance saga, GODS OF WAR, pits warrior against warrior with Earth as the battleground. The Prize? Earth. 
The journey begins with book one, Shadow And Ice…
Knox of Iviland has spent his life competing in the All Wars, where vicious warriors with supernatural powers fight to the death to claim new realms. One winner takes everything — and all losers die. Enslaved as a child for his ability to control shadows, the most ruthless champion in history will stop at nothing to kill his king. But first he must win the battle for Earth. When a fearsome weapon imprisons every combatant in ice, centuries pass without progress…until she walks in.
Vale London craves a fun arctic getaway with her foster sister before settling down to open a bakery. Street-tough but vulnerable, she is unprepared to find ancient gods escaping a frozen cave — merciless beings who target her when she inadvertently enters their war.
Though Vale is now his enemy, Knox is consumed with lust and a fierce need to protect her. But only one combatant can prove victorious, and he will have to choose: live for freedom, or die for love.
Want to know a little more about the characters? 
Knox of Iviland is a battle-hardened, alpha, warrior – cold, bitter and bloodthirsty – he will do whatever it takes to win. Including, keeping close to a woman, when everything he's ever known has shown him not to trust or show mercy.
Vale London is a strong, tough, take charge woman who's been kicked in the teeth and knocked around by life for too many years to count.
Although extremely wary of each other, the two will have to work together if they want to survive.
My thoughts on the book? 
This is a book unlike any that I have read before and is a definite must read.
People (adults!) who enjoyed reading The Hunger Games may especially get a kick out of it. I can't wait to read the next book in this awesome new series.
Highly Recommended.
Up next on the review block is The Witch Who Courted Death by Maria Lewis. If you're curious as to why I pushed back the review date for this book, it's because on Wednesday November 7th, 2018, I will be interviewing the author!
Yep, that's right! I'm internally squealing with a mixture of delight and terror because I'm going to be interviewing the International bestselling, Australian author, Maria Lewis. 
On that note, if you or any of your friends happen to be readers and fans of Maria's and want to ask her a question, simply send it along to me and I'm happy to add it to my list of questions.
In the meantime, be sure to check back in to learn the winner of the October Monthly Giveaway and to see the prize for the November Monthly Giveaway.
Until next time, happy reading my book loving friends!
From Rhianna of Bingeworthy Book Blog