So last Tuesday I finished reading Sun Warrior, the second book in P.C. Cast's Tales of A New World series. A series that I only discovered about three weeks ago and I absolutely love it!
It's got everything in it that I love about a great fantasy series: Strong female leads, a diverse cast, a great storyline and plot which includes hints of wiccan/pagan religions. A good pace with a few ups and downs and sweet surprises along the way. You can check out the cover image, blurb and my review along with buy links below: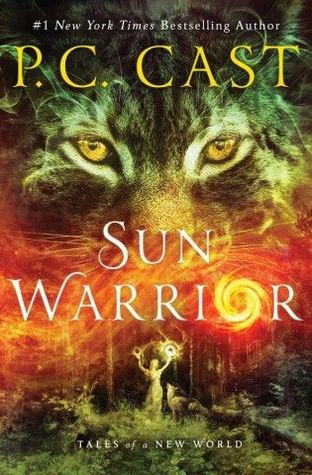 The battle lines have been drawn.
Once from rival clans, Mari, an Earth Walker, and Nik, a Companion, now find themselves fighting to save each other and their people from destruction.
Thaddeus has betrayed his own people, killing Nik's father and destroying their entire clan. But he wants more. He wants the power he believes Mari has stolen from him and his people, and he will do anything to get it back, even if it means destroying everything in his path. There is only way to stop Thaddeus, and it means a harrowing journey for Mari and Nik into the heart of darkness. Meanwhile, Dead Eye becomes a willing vessel for the newly awakened god, Death. Death has plans of his own and he, too, will use whatever and whomever he must, including the mad Thaddeus.
Amazon Hardcover: bit.ly/SunWarriorAmazon
Kindle: bit.ly/SunWarriorKindle
iBooks: bit.ly/SunWarrioribooks
Nook: bit.ly/SunWarriorNook
B&N Hardcover: bit.ly/SunWarriorBN
GooglePlay: bit.ly/SunWarriorGooglePlay
Kobo: bit.ly/SunWarriorKobo
BAM: bit.ly/SunWarriorBAM
IndieBound: bit.ly/SunWarriorIndieBound
Admittedly, after I finished reading this book I wanted to wallow around in the intense fantasy-filled book hangover that I was submerged in but I'm moving on past that stage now and steadily making my way through Nalini Singh's upcoming release Cherish Hard, which I'm really enjoying. It's a look back at the Bishop/Esera men before Gabriel met Charlotte in Rock Hard. The story I'm most looking forward to reading is Jake's book though. I really, really want to read his story.
In case you've missed them here's the cover, blurb and buy links, along with an excerpt to wet your appetite:
CHERISH HARD
A Hard Play Novel by Nalini Singh
New York Times bestselling author Nalini Singh kicks off her new Hard Play contemporary romance series with a sizzling story that'll leave you smiling…
Sailor Bishop has only one goal for his future – to create a successful landscaping business. No distractions allowed. Then he comes face-to-face and lips-to-lips with a woman who blushes like an innocent… and kisses like pure sin.
Ísa Rain craves a man who will cherish her, aches to create a loving family of her own. Trading steamy kisses with a hot gardener in a parking lot? Not the way to true love. Then a deal with the devil (aka her CEO-mother) makes Ísa a corporate VP for the summer. Her main task? Working closely with a certain hot gardener.
And Sailor Bishop has wickedness on his mind.
As Ísa starts to fall for a man who makes her want to throttle and pounce on him at the same time, she knows she has to choose – play it safe and steady, or risk all her dreams and hope Sailor doesn't destroy her heart.
EXCERPT
Fuming, Ísa made sure to set the alarm system and lock up. Everyone else was already well into their summer vacation—the sole reason Ísa was here was because she hadn't been able to work on her lesson plans at home.
Her upstairs neighbor was having repairs done to her bathroom that required banging and hammering.
Not all of it involved nails and wood.
Hopefully the repairs would be finished by now. There was only so much ecstatic orgasmic screaming that a single woman in online-dating purgatory could stand without being driven to violence.
She spotted the tan-colored gardening truck the instant she came down the front steps of the school's imposing redbrick main building and turned left to head toward her car. The hot gardener had parked it right next to her zippy blue compact. The front of the truck had four doors with tinted windows while the large bed was piled with shovels and other manly tools as well as a huge sack of clippings.
His light brown T-shirt was hanging over the top of the tailgate.
Which meant he was still walking around topless somewhere around here.
"Get in your car, Ísa," she muttered to herself, well aware what would happen if she came face-to-face with that delicious hunk of manhood. Because while she might've conquered her shyness, she knew her limits.
Confronted by a bare-chested man who made her ovaries explode, she'd turn bright pink, lose her ability to form speech, and end of story. "Oh—"
She would've bounced off that sculpted chest if he hadn't grabbed her by the hips.
"Hey, sorry," he said with a startled smile that lit up the dazzling blue of his eyes. "I didn't see you."
"No, um, my fault." It looked as if he'd crouched down to check one of his tires or something else but had risen to his feet right when she swung around to get into her car. And God, his skin was so hot and smooth and he was so tall and his shoulders were so broad and her mouth was drying up. The stuttering would begin at any moment.
The same stuttering Suzanne had mocked relentlessly when they were fourteen. Until Ísa had gone silent around everyone except the few friends she trusted. And now that horrible, ugly-hearted girl was getting married, having a baby, getting a happily-ever-after. Added to which, Ísa's mother was jerking her on a string like she was a marionette, and her last "date" had asked her to call him Woofy and reward him with doggy biscuits.
The blue of the gardener's eyes flickered with a hot flame.
And she thought… I know him. But before she could follow that faint thread, all the fury and hurt and frustration and sheer aggravation in Ísa ignited into an incandescent inferno.
She went mad.
Grabbing the hot gardener's beautiful face in her hands, she said, "I want to kiss you."
A wicked grin. "Go on ahead."
And Ísa pressed her lips to his.
Copyright © 2017 by Nalini Singh
Meet Sailor & Isa on November 14th!
Pre-order your copy today!
Amazon Au: http://amzn.to/2zxiWjT
Amazon US:  http://amzn.to/2yaHnQG
Amazon UK: http://amzn.to/2i1LhHC
Amazon CA: http://amzn.to/2yXwnFB
iBooks:  http://apple.co/2xw0U0O
Nook:  http://bit.ly/2yf01bI
Kobo:  http://bit.ly/2i2wvR1
So while I'm reading Cherish Hard there are also a number of books set to release in the next few months that I'm really looking forward to getting my hands on but I'll share those in a later post, I think this one has been long enough for everyone. However, I will include a couple of books that I hope you will enjoy as much as I plan to:
Also releasing on NOV 14th:
I stole her in the night. Caged her because I can't live without her. She's my love, my addiction, my obsession.
I will do anything to keep Sara mine
★ PRE-ORDER OBSESSION MINE
Amazon US: http://bit.ly/ObsessionMineAmazonUS
Amazon UK: http://bit.ly/ObsessionMineAmazonUK
Amazon CA: http://bit.ly/ObsessionMineAmazonCA
Amazon AU: http://bit.ly/ObsessionMineAmazonAU
iBooks: http://bit.ly/ObsessionMineiBooks
Kobo: http://bit.ly/ObsessionMineKobo
Google Play: http://bit.ly/ObsessionMineGooglePlay
Nook: http://bit.ly/ObsessionMineNook
Paperback: http://bit.ly/ObsessionMinePaperback
Audiobook: http://bit.ly/ObsessionMineAudiobook
New York Times bestselling author Chantal Fernando returns to her latest, steamy Conflict of Interest series with this electrifying tale of murder, justice, and intense attraction.
Jaxon Bentley is a hardnosed criminal lawyer whose entire life revolves around his work. He's been asked to represent Scarlett Reyes, a woman accused of murdering her police officer husband in cold blood. All the evidence points to Scarlett being guilty and Jaxon is sure it's an open and shut case.
But when he meets his client, he can't help but feel that she's innocent and that there's more to the story than meets the eye. With a bit of digging, he uncovers a connection to the notorious Wind Dragons Motorcycle Club and realizes that Scarlett's case is a complicated and difficult one. It certainly doesn't help that the two share an immediate and passionate attraction. Will Jaxon be able to prove Scarlett's innocence or are the two doomed to fail both in court and as a couple?
Amazon Au: http://amzn.to/2h6Byw0
Until next time,
Happy reading,
Rhianna